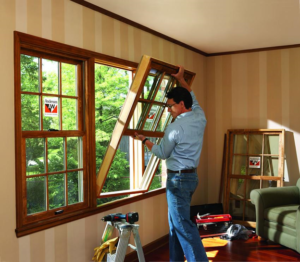 While renovating your home, replacing the old windows can enhance the overall look of your home. It makes your home look more modern, elegant and clean. Double-hung windows amongst all the replacement windows available in the market are easy to clean and maintain. Are you looking forward to replacing your old windows? There's a variety of options to choose from. Each will add it's unique style and feel to your home.
Types of Replacement Windows
 Replacement windows are available in various styles, shapes, and sizes. You can pick the one that suits your taste and fits your budget. The location of the window should be kept in mind while selecting the style, shape, and size. The different types of replacement windows are:
Double-hung replacement windows are the most popular window styles available in the market. These are most suitable for the openings where height is more than the width.  They look great on the walls next to patios, decks, and walkways.  Not only do they offer a classic look to your place, but they are very easy to handle and access. By lowering the top slash this allows warmer air around the ceiling to move out from the top. Raising the lower sash allows the cool air to flow in.
Sliding windows also are known as gliding, windows come with slim vertical lines for a clean and elegant look. This is a perfect addition to the architectural style of your home. These windows are ideal for the openings where the width is more than the height. The windows can glide smoothly on either side.
Awning windows pivot outwards and its hinges are located on the top. Due to their structuring, these windows have a horizontal orientation. These windows look good when installed near the ceiling, in the walk-in closets and even in bathrooms to fil the room with sunlight.
Bay and Bow windows are a collection of three windows each attached at 25-to-45 degree angles. On the other hand, bow windows are a collection of more than three windows connected at 10-15 degree angles. Both the window styles look amazing in the living room when placed at the focal point of the room.
Tips to Choose the Right Replacement Windows
Performing a Test
To know which windows are the most suitable and in good shape, ask the contractor to perform a test on windows for resistance to wind and rain. This will help determine if the whole window is to be replaced or part of it can be salvaged. You can find sturdy replacement windows of good quality at an affordable price that fits your budget when working with an experienced and trusted ProVia contractor.
Salvaging Outdated Framework
If the frames of your windows are not too worn out and can be salvaged with a new paint job or finishing, you could save money on material and labor. If the frames are too worn out and damaged, you may need to purchase a full replacement window.
Find an Experienced Window Contractor
No matter how much high-quality and comfortable window you buy, if it isn't fixed right, it won't look right. Hiring a certified and skilled ProVia contractor to assist you along your home improvement project will give you long-term peace of mind. With lifetime warranties and product satisfaction guarantees, you will be covered in case you need to replace the windows again.
Additional options for replacement windows are equally essential and beneficial types such as single hung windows, glass block windows, and casement windows. At Middlefield, we are Northeast Ohio's most trusted replacement window and exterior door company since 1959. Let's get your project underway! Call us at (216) 264-8315 to get started on your next project.